My body is hard to clothe. Sound familiar?
Well, my body is REALLY hard to clothe. Not only am I a statuesque 6'3" in flats, but I have a big tummy and no arse. Really - no butt. I am a size 24 in jeans and a size 14 in underwear. Such is the discrepancy between the size of my REAL body and the size of my teeny tush.
As you can imagine, finding the most notoriously hard-to-fit clothing item is tough. Really tough. I get saggy butt, and it makes me weep.
Cue the Denim Review, a look at the denim durability and fit of various plus sized brands!
My first review will be of the
Lane Bryant
line of denim. Lane Bryant tries to compensate for the wildly different shapes and measurements of plus-sized women with their colored label denim, known as the Right Fit Technology. It certainly helps, but is no silver bullet. Women with rounder thighs and hips should go for the Blue fit, denoted with a circle. Pear-shaped women with small waists and bigger hips and thighs can choose the Red triangle fit. And good ol' no-butts like me can pick up the Yellow square line.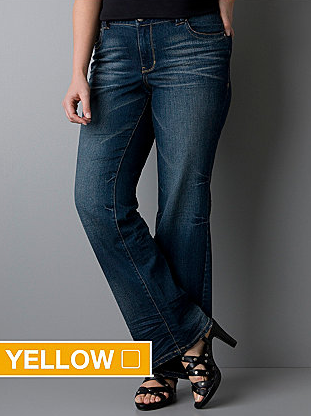 Those don't even fit HER well...
I give credit where credit is due. This is a good idea, and a small step towards acknowledging the diversity in plus size shapes. However, I can not wear the right-fit Yellow. I find it to be uncomfortably snug in the crotch region, and while it fits my tush (YES), the thighs are far too small (and I have smaller thighs for someone my size).
The regular line of denim falls the same generic sizing as most lines - big all over. Big thighs, big stomach, big hips. Lane Bryant stores also never carry tall sizes anymore, which is a nightmare in sizing for someone like me. I hate to "gamble" with ordering sizes. It's a big hassle and I dislike dealing with the post-office. So, boo.
I love Lane Bryant bras, and have many great LB tops and dresses. In fact, I am celebrating tonight's 4th of July fireworks in a blue peasant dress from last season's spring collection!
Final Denim Score: 2 out of 5 Warbles
Bonus points for trying to fit different bodies.
*
Comment: 7/7/13 I went to the Merrimack Premium Outlets in Merrimack NH today. I had the opportunity to try on size 26 Tall jeans from LB! I was very excited and picked up the flare, bootcut, and straight leg styles. They... were disappointing. When the waist fit, I had major saggy butt. When the tush looked perfect, the waist was several inches too loose. Sigh. I cannot win with LB jeans. I did tack advantage of the Buy 2 Get 2 Free bra deal and walked away with 4 in their Plunge style.
Agree? Disagree? Have your own stories? Share in the comments section!